According to "https://www.givingtuesday.org/about" GivingTuesday.org this day of giving was founded in 2012 by New York's 92nd Street Y in partnership with the United Nations Foundation as a day that encourages people to do good.
July 2019, GivingTuesday spun out into its own organization, led by GivingTuesday co-founder, Asha Curran, as its CEO. A simple idea: a day that encourages people to do good. Since then, it has grown into a year-round global movement that inspires hundreds of millions of people to give, collaborate, and celebrate generosity.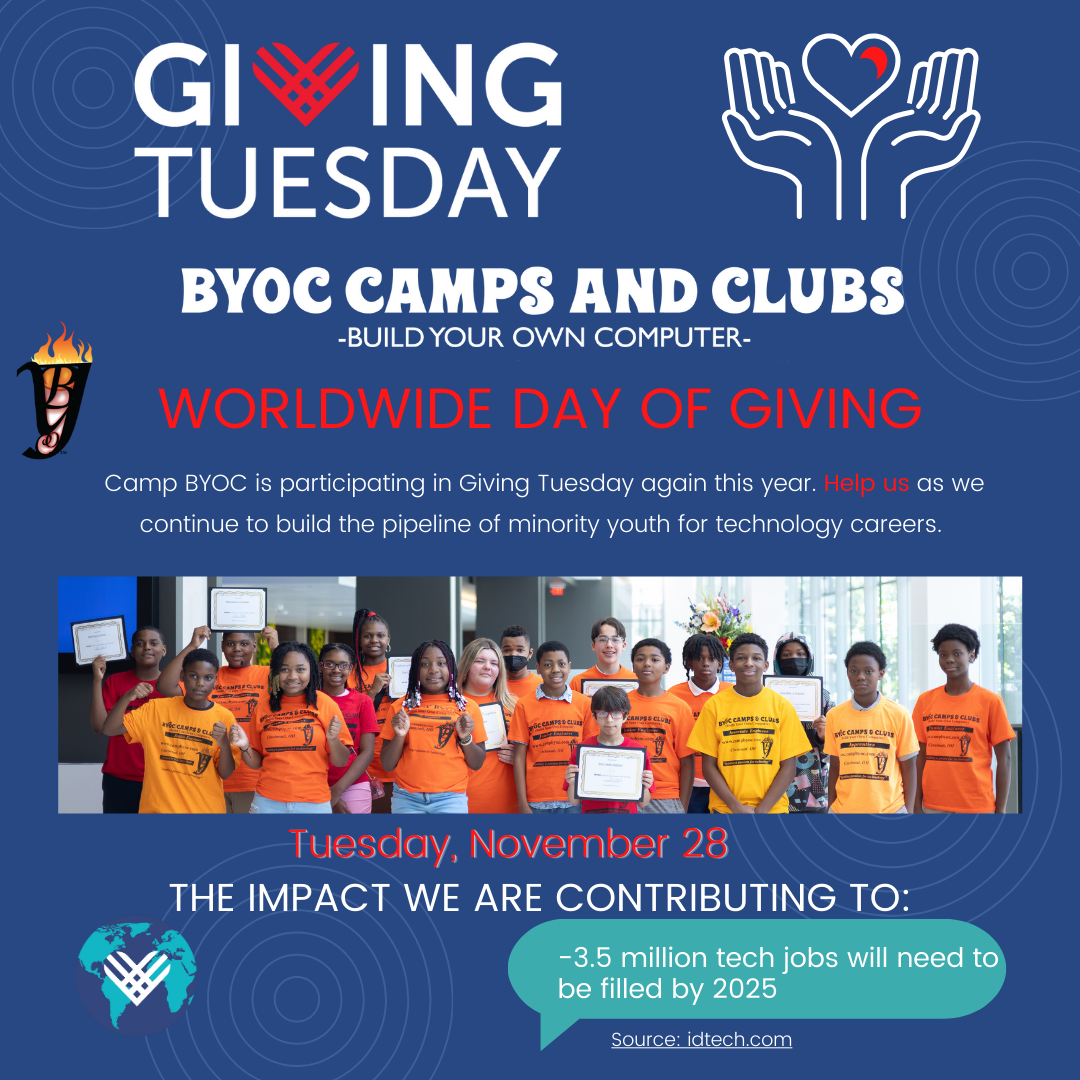 How You Can Support BYOC!
Join the Challenge to Raise $2500 for a Student
What Do the Donors Receive?
1) They receive our extreme gratitude for making this donation and supporting this campaign

2) They have the option to help select the youth who will receive the scholarship in their name

3) They receive name publicity all year

4) They will have free admission to BYOC events and fund raisers (i.e. annual wine and cheese, youth summit)

5) A BYOC event will be named in their honor for 1 year

Why Give to BYOC: BYOC mission is to grow a pipeline of minority talent for tech careers. 3.5 Million Tech Jobs Need to be filled by 2025. African American students only earned 5% of engineering bachelor's degrees in 2020.

Click Below to Make a Donation
Credit Card
Support with a One Time Donation $5, $325, $450 OR $2500 with a Credit Card via Zeffy.

Support BYOC Programs with Monthly Recurring Donations of $5, $10, $25, or $50.

Other Ways to Donate
If you prefer Paypal Giving Fund, Cash App, Venmo or Facebook you can donate whatever amount you choose.
GOAL: RAISE $25000 FOR SCHOLARSHIPS FOR 10 STUDENTS
NOV 1 - DEC 31

* Every $2500 raised in the name of an organization (church, school, business) will provide a 1 year scholarship for a student.

Eligible students to receive the scholarships are those from underserved communities or who have financial challenges that hinder them from participating in BYOC programs.

How:
1) Organizations or Individuals Make a Single or Recurring Donation In Their Name

2) Organizations Optionally Match Single or Recurring Donations Made In Their Name

Details:
Participating organizations (business, school or church) solicit donations from individuals in their name.
OR
Individuals solicit donations in their own name.

Those who raise $2500 will bless a youth for 1 year in the name of their organization

**One Time Donations that Don't Reach $2500?
Funds under $2500 will support specific BYOC programs:
-Robotics Club and Competition Team
- Coding Club and Competition Team
- BYOC Youth Summit
- Silicon Valley and Other Trips
- BYOC Summer/Fall/Winter Classes

**What Happens with Recurring Donated Funds?
These funds will support ongoing BYOC programs:
-Robotics Club and Competition Team
- Coding Club and Competition Team
- BYOC Youth Summit
- Silicon Valley and Other Trips
- BYOC Summer/Fall/Winter Classes

**What Happens with Donated Funds not in the name of an organization?
These funds will support ongoing BYOC programs:
-Robotics Club and Competition Team
- Coding Club and Competition Team
- BYOC Youth Summit
- Silicon Valley and Other Trips
- BYOC Summer/Fall/Winter Classes


** THESE DONATIONS ALLOW US TO BRING THE PROGRAMS WE BRING EVERY YEAR TO OUR YOUTH